Gayle Dempsey, Artist
Award-winning artist painting in acrylic, oil and watercolor.
The Waves Cometh
An exhibition of recent works by Gayle Dempsey
March 24 to April 28, 2023
Opening reception April 2, 1–4 pm
Arts and Letters Club of Toronto
14 Elm Street, Toronto, Ontario
During the pandemic, as the waves of COVID 19 rise and fall my work is transforming from hard edge, dark landscapes to a more fluid and brighter palette. As the waves of numbers of cases and hospitalizations undulate like waves on the water so do my creative impulses, hopes and fears, sometimes crashing to the shore of my being and sometimes gently washing over me as I translate this moment in time to canvas. This never-ending movement towards the next pushes me forward as I look to new ways of living, creating and showing up.
The rise and fall of waves, the ebbs and peaks, and the bombardment of our being with information and disinformation and uncertainty create its own rhythm of paint on canvas and paper. A rhythm and place free of rules and restrictions—a greater vision of life.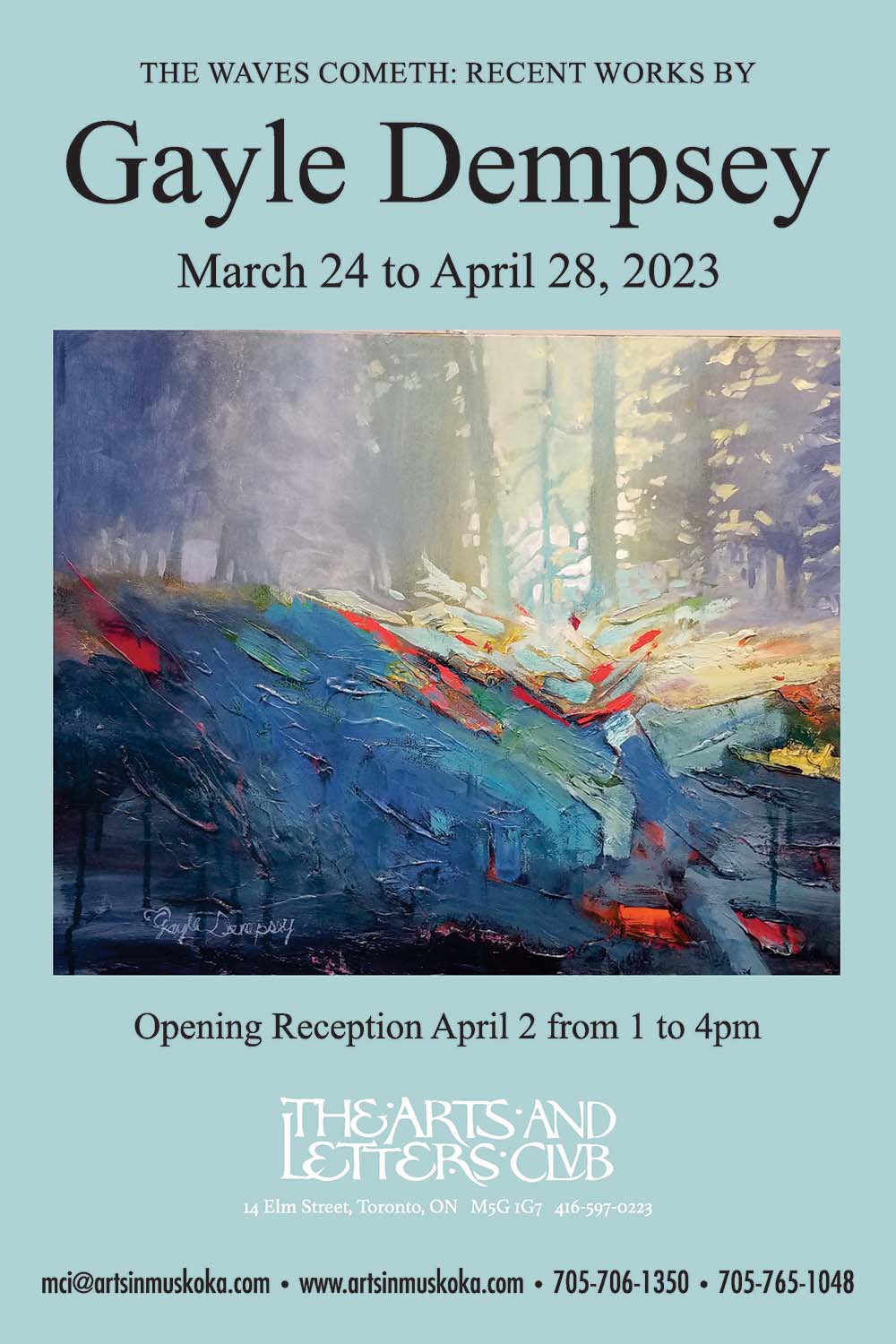 Gayle Dempsey, a fourth generation Muskokan, is an award-winning artist who feels a deep connection to the spirit of the land, the lakes, the natural beauty and the peace that is Muskoka. Capturing the soul of place in acrylic and oil, Gayle's work connects with her roots. Loose underpaintings give way to structural details as her passion is revealed.
Mystery of the Park Award, Second Place, ECOAA Annual, 2021
Rose Baker Award, Best Water Media/Acrylic, Annual Members Juried Exhibition, 2021
James O'Brien, 61st Annual Chautauqua Exhibition of Contemporary Art, Chautauqua Institution, NY, 2018
Award of Excellence in Acrylic Painting, Muskoka Arts and Crafts Spring Show, 2016
Recipient of the Muskoka Awards inaugural Arts Award for creativity, personal artistic achievements and support and leadership in Muskoka's arts community, 2009
Award of Excellence in Acrylic Painting, Muskoka Arts and Crafts Spring Show, 2008
Township of Muskoka Lakes Award for Dedication and Advancement in Arts and Culture, 2004
Please see CV above for a full list of exhibitions.
Spring Thaw
Arts & Letters Club Members' Exhibition
April 2022
Solo Exhibitions:
Township of Muskoka Lakes Gallery Space, Port Carling, ON, The Waves Cometh, 2022
Muskoka Place Gallery, Two Woman Show with Donna McLaren, 2016
Muskoka Place Gallery, Fire & Ice, solo exhibition, 2011
Muskoka Place Gallery, solo exhibition, 2006
Catto Gallery, Muskoka Lakes Museum, Port Carling, 2006
Group Exhibitions:
Algonquin Visitors' Centre Gallery, ECOAA Annual Mystery of the Park Show, 2021

Georgina Arts Centre & Gallery, ECOAA Annual Members' Juried Show, 2021

Arts and Letters Club of Toronto – Juried Beginnings/Endings – 2021

Muskoka Arts and Crafts Spring Show, 2021

Arts and Letters Club of Toronto, Juried Fall Members Show, 2019

The Gibson Centre, 2019
Arts & Letters Club of Toronto, 2017, 2019, 2020, 2021
Orillia Museum of Art & History, 2017
Muskoka Arts & Crafts Spring Show, 2016, 2017, 2018, 2019, 2021
CEI Galleries & Kati Bujna Fine Art Studio, 2013
Arts & Letters Club, juried shows, 2012, 2011, 2010
FIND US
Office: (705) 765-1048 // Toll-free: 1-888-311-ARTS
info@artsinmuskoka.com
1182 Foreman Road, Port Carling, Ontario
The Arts in Muskoka Group is located on the traditional territory
of the Ojibwa, Obajewanung, a place that has long served as a
meeting place shared by many nations.