Muskoka Place Gallery is home to a learning community of painters and offers various arts workshops for all ages, including watercolour and acrylic painting, photography, printmaking, watercolour journaling, breathlines and movement.
Gayle Dempsey
is the artist in residence.
The Gallery also hosts the popular Company of Good Cheer coffeehouse concerts with Brandy Creek Music & Publications throughout the fall, winter and spring. These intimate concerts feature some of Canada's best musicians performing folk, blues, country and world music.
Exhibitions
The Muskoka Place Gallery hosts exhibitions throughout the year. Exhibitions usually hang in the gallery for three weeks, and begin with an opening with the artist present. Most exhibitions take place between June and November.
The Brown Baggers Artists of Muskoka open their Spring Show at Muskoka Place Gallery on Friday, March 24. The show continues to Saturday, April 29. See More
Hours, Contact and Directions
From Toronto: Take Highway 400 North to Barrie
At Barrie, take Highway 11 North
At Bracebridge, take Highway 118 West
Take 118 through town, make a left at the Tim Horton's
Follow 118 to Port Carling
Drive through town, make a left on Foreman Rd.
Or:
Take Highway 400 North to Barrie
At Barrie, continue on Highway 400 North, which becomes Highway 69 North
At MacTier, turn right onto Highway 169
Turn left at Highway 118
Follow Highway 118 to Port Carling
Turn right on Foreman Rd. after the Esso station
The Gallery is located at 1182 Foreman Rd., 2 km from the highway, on the right hand side. Look for the Inukshuk by the driveway entrance.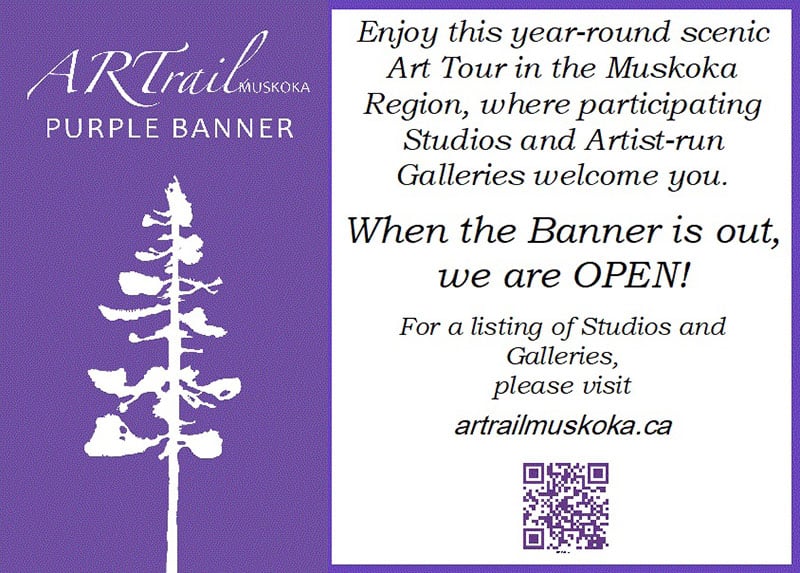 If you are interested in showing your work at the Muskoka Place Gallery, please send the following:
digital images; please include title, medium, size and date of the work
your biography and curriculum vitae, listing any previous exhibitions
your contact info
Application packages can be sent by mail to:
Box 172
Port Carling, ON
P0B 1J0
Or by e-mail to: info@artsinmuskoka.com
FIND US
Office: (705) 765-1048 // Toll-free: 1-888-311-ARTS
info@artsinmuskoka.com
1182 Foreman Road, Port Carling, Ontario
The Arts in Muskoka Group is located on the traditional territory
of the Ojibwa, Obajewanung, a place that has long served as a
meeting place shared by many nations.